while girls in America plan their wedding fully equipped with $25,000 budget, women in other third world countries only dream of a night in peace, or just a warmer than usual night. there isn't anything wrong with a big wedding, or even a large budget, but we would be selfish to think everyone was as blessed as we were.

Below is an attempt to rescue one of these girls from captivity. Sam Stroud, a Lynchburg based wedding photographer, is auctioning off an all-inclusive wedding photo package to raise awareness. I highly encourage you to take a look and think about purchasing a ticket. The winner will be announced November 7, 2009.

_______________________________________________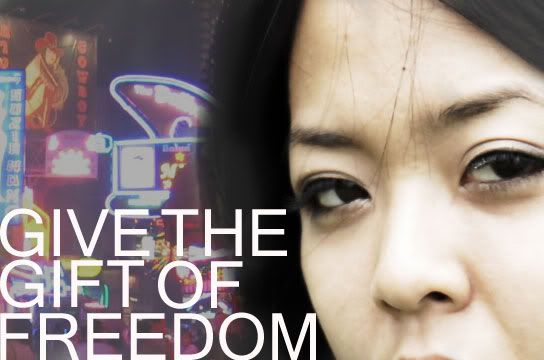 THE REALITY
You cannot get married.
You will never find true love.
Your entire existence is only to bring someone else pleasure.
You are nothing more than a body… unless someone shows you a way out.
Right now, as your eyes scan this sentence, this is the reality of more than 300,000 women in Thailand alone, who are engulfed in sexual slavery.
Right now, as you plan your Big Day, two children are being sold into slavery
Right now, as the diamond shines bright on your left hand, you have the opportunity to change the life of a woman in bondage, AND your wedding day in the process.
THE DETAILS
· Who: Sam Stroud Photography
· What: Sam is auctioning off a wedding photography session for a wedding taking place in 2010, worth $2,150. This package includes all-day coverage, a 13×10 coffee table book and an engagement or bridal photography session. All fees included, including travel!

· When: The winner will be drawn at the 2009 Central Virginia Bridal Show on Nov. 7th, 2009(You do not have to be present to win) and here online as well
· Where: The Kirkley Hotel, Lynchburg, VA and online at www.samstroudphoto.com, Contest location includes travel to wherever your getting married. I like to travel.

· Why: For every raffle ticket purchased, the proceeds go directly to Freedom 4/24, a ministry which aims to rescue women from sexual slavery, while providing money to supply them with alternative means of survival.
· How to Help: Simply purchase a $10 ticket for your chance to win free wedding photography. There is no limit to how many you can buy. In fact, the more you purchase, the more chances a woman in slavery has to escape forever.

-above photo copywright of freedom:424-